Kayaking holiday for 5-8 days (144 km)
Väliväylä kayaking route in southeastern Finland, between Lappeenranta and Kouvola.
Väliväylä is a kayaking route connecting the waters of Lake Saimaa and River Kymijoki, the length of which is about 150 kilometers from Lappeenranta to Kouvola. The route is very diverse in terms of landscape and destinations and offers great nature experiences: it consists of Lake Saimaa's insular landscape, narrow straits, high coastal cliffs, winding and maze-like small lakes and a country landscape colored by summer cottages.
Along the way, you can see the history of log-flowting, industrial and military history, as well as traces of the Ice Age. The kayaking route is exceptionally sheltered from the wind, and along it there are plenty of rest areas designed for kayaking excursions, as well as open saunas. There are also commercial accommodation, sauna and dining services along the route.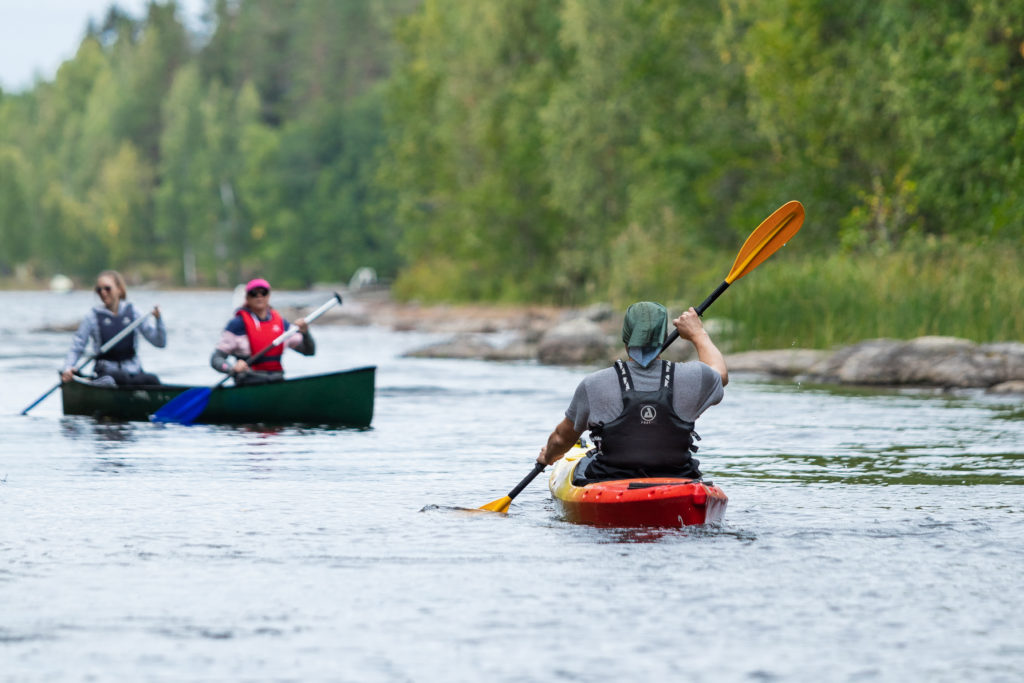 You can start kayaking the route from Lappeenranta harbor next to the old fortress area. You can get kayaks and canoes as well as all the necessary camping equipment at the rental point of the Sandcastle area. You can return the kayaking equipment to the Käyrälampi rental point at the end of the route in Kouvola.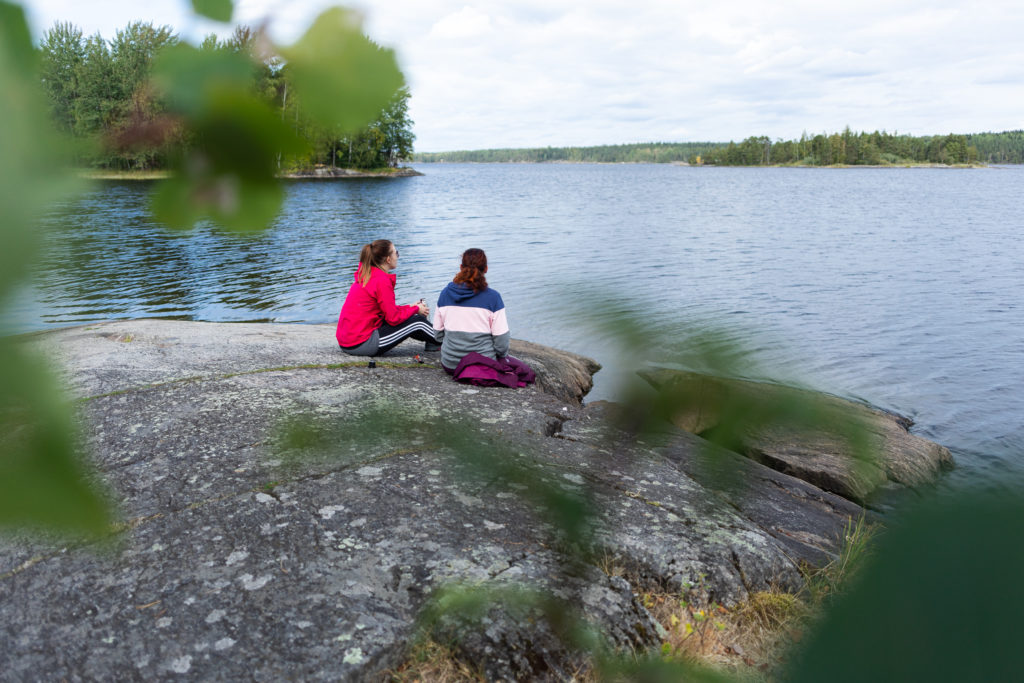 Day 1:
At the beginning of your kayaking trip, you will see Lappeenranta's harbor and cityscape, you will kayak under the bridges and see the island landscapes of the Lake Saimaa. Those interested in military history should visit the great bunker structures on the island called Ruohosaari or the neighboring island Naurissaari. Ruohosaari also has a shelter and outdoor toilet. On the shore of the island called Ruusin Turasalo, you can stop to look at old rock paintings. The journey continues towards strait Kähönsalmi and the waterway narrows into an old log-flowting route. The first possible place to stay overnight is at the Monnonlahti.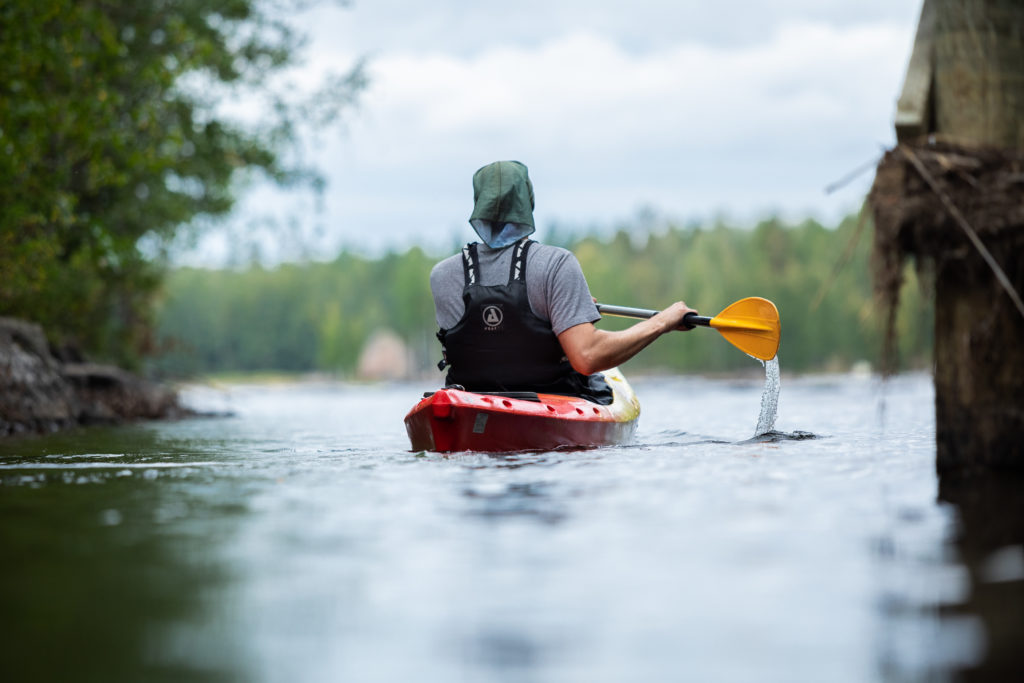 As you paddle further along, you will come across Myllylampi and the Rutola area, where there are sites that tell about the history of industry and log-flowting, a nature trail and the Salpalinja bunkers related to military history. There are also two shelters for kayakers. You will see the remains of buildings related to the history of log-flowting, as well as the former log-flowting channel that connected the Saimaa watercourse and the Kymijoki watercourse, along which saw logs were swam across the land.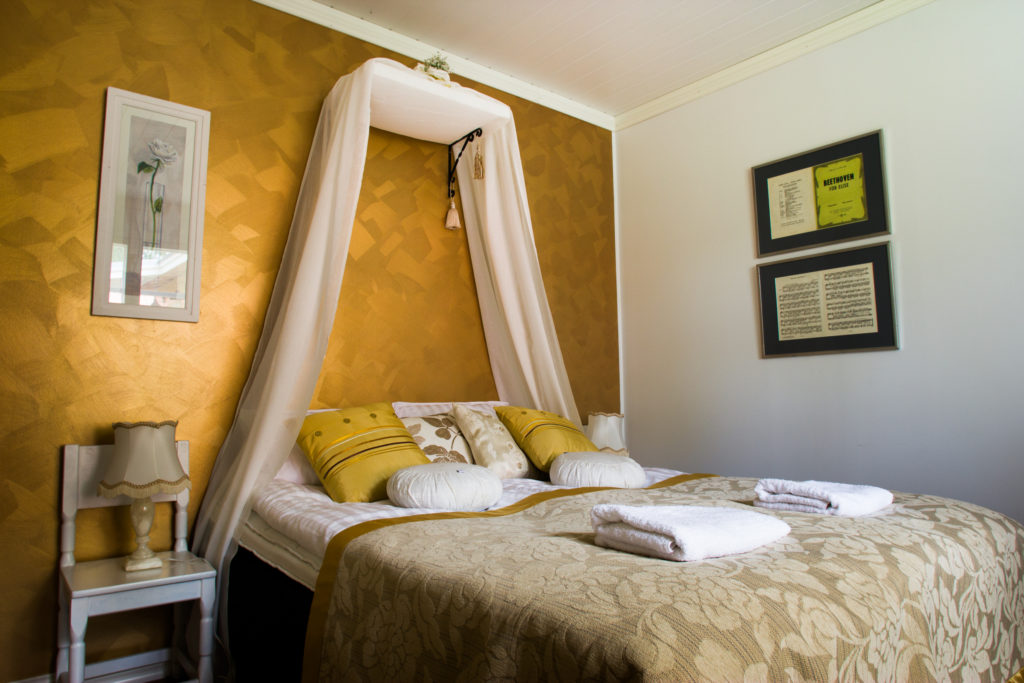 At this point there are a couple of small ponds and a couple of short stretches where the kayaks need be moved along the land. Shelter called Kärenlaavu is on the beach after the portage.
Places to stay overnight:
Monnonlahti; pier, fireplace, toilet (25 km)
Salpalinjan Hovi; hotel accommodation (35 km) Read more gosaimaa.com/salpalinjan-hovi
Myllylampi; pier, fireplace, toilet (36 km)
Kärenlaavu; shelter, toilet (38 km)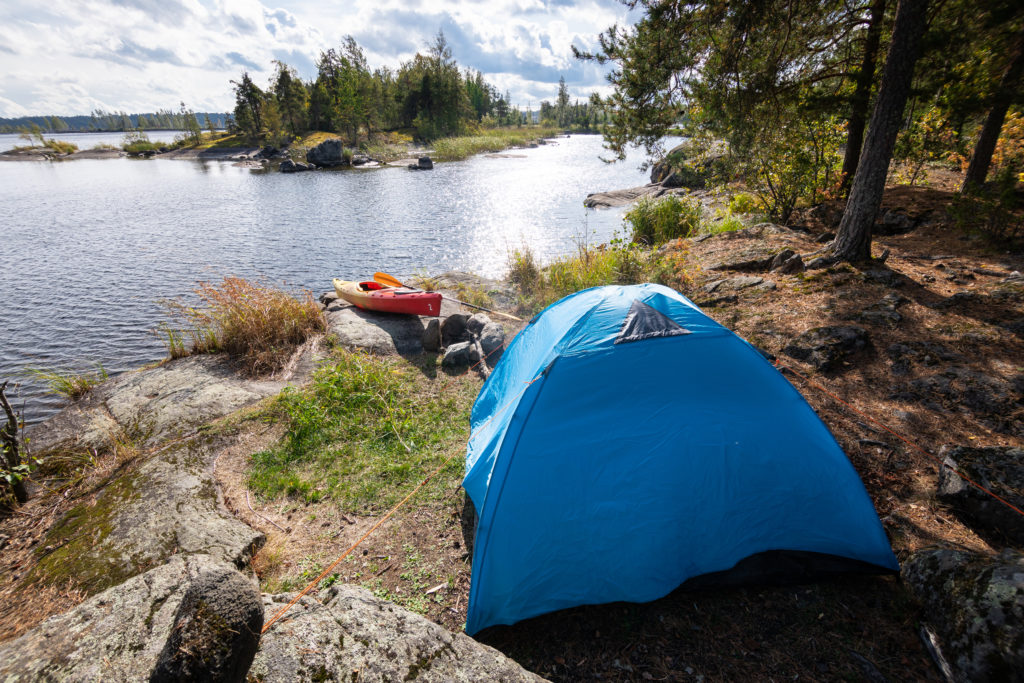 Day 2:
From Kärenlaavu onwards, there is a row of small and narrow lakes, along which you can e.g. explore the old rock paintings of Salmenvuori or the bunkers of Vuossaari.
Places to stay overnight:
Leinniemi; pier, shelter, fireplace, toilet, better tent sites (48 km)
Hotel Salpa (56 km) Read more: gosaimaa.com/hotel-salpa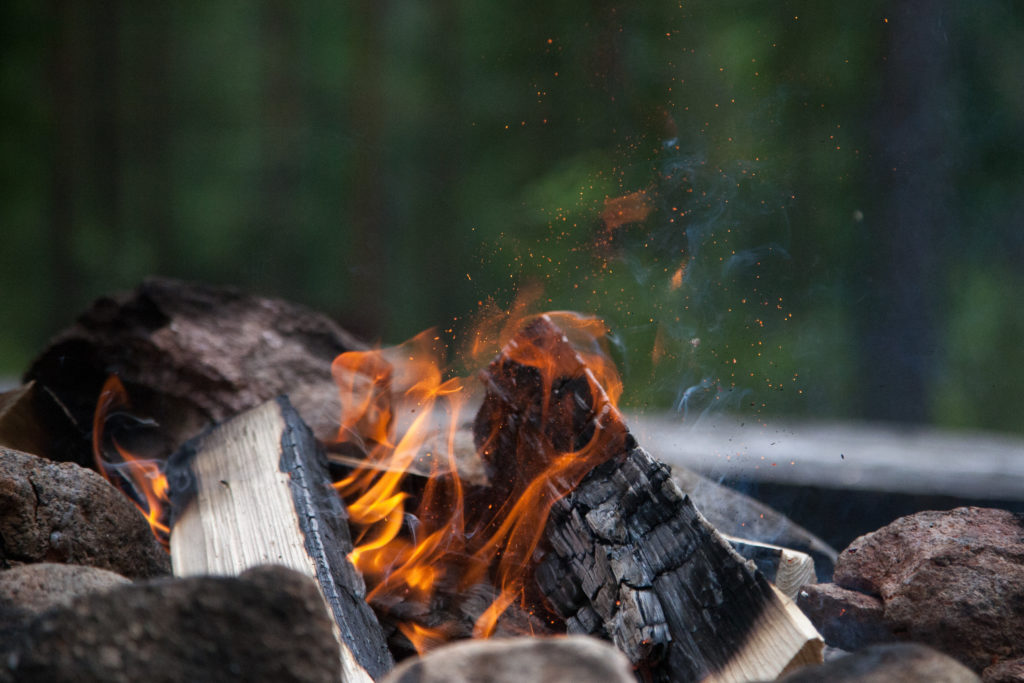 Day 3:
After Lake Jängynjärvi, the landscape at lake Kivijärvi opens into a wider water area. On Kivijärvi, you kayak towards the beautiful natural formations, the natural sand beaches of Sarviniemi. At Jurvala in Luumäki, there are services close to Väliväylä. On the island called Surmasaari, there is a possible resting place (no overnight stay), a pier, a shed, a campfire site, a toilet (54 km). Hotel Salpa is a couple of kilometers ahead of here.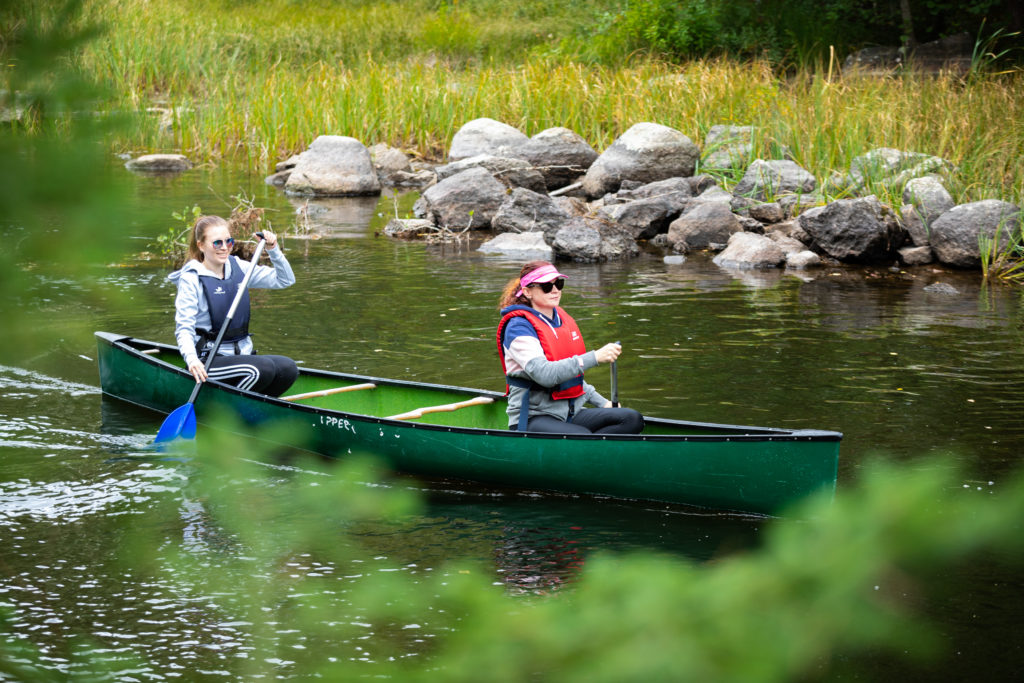 Pärsäniemi and Parkinpaska are places to stop/overnight in Kivijärvi. When moving from Kivijärvi to Ala-Kivijärvi, the Huopainen stream is in between, which helps the kayak move forward, and there is a nice shelter on the bank of the stream.
Places to stay overnight:
Pärsäniemi; shelter, fire place, toilet (66 km)
Parkinpaska; pier, shelter, fireplace, toilet (67.5)
Huopaistenvirta; shelter, fireplace, toilet (75.5 km)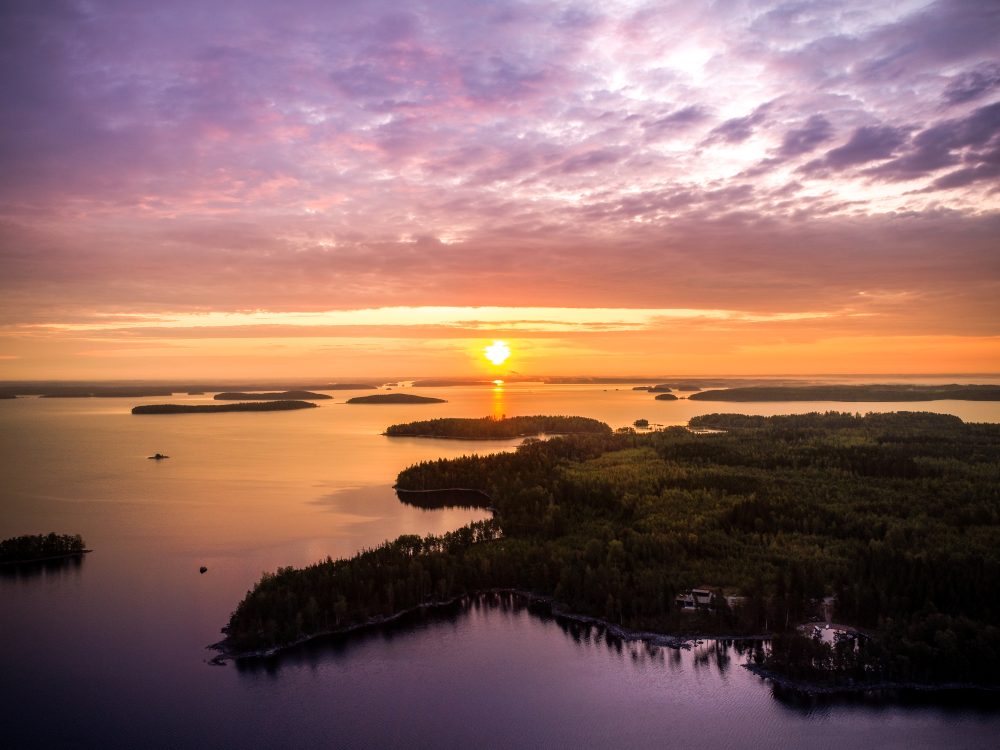 Day 4:
Lake Kivijärvi is followed by lake Ala-Kivijärvi, at the end of which island Uitonsaari, suitable for a break or overnight stay, is located. After Ala-Kivijärvi begins the section of small and long lakes. Next is Lake Kelkjärvi, where floating structures can be seen again. At the tip of Kalamaniemi, located between the lakes Kelkjärvi and Tuohtiainen, you can try to see old rock paintings.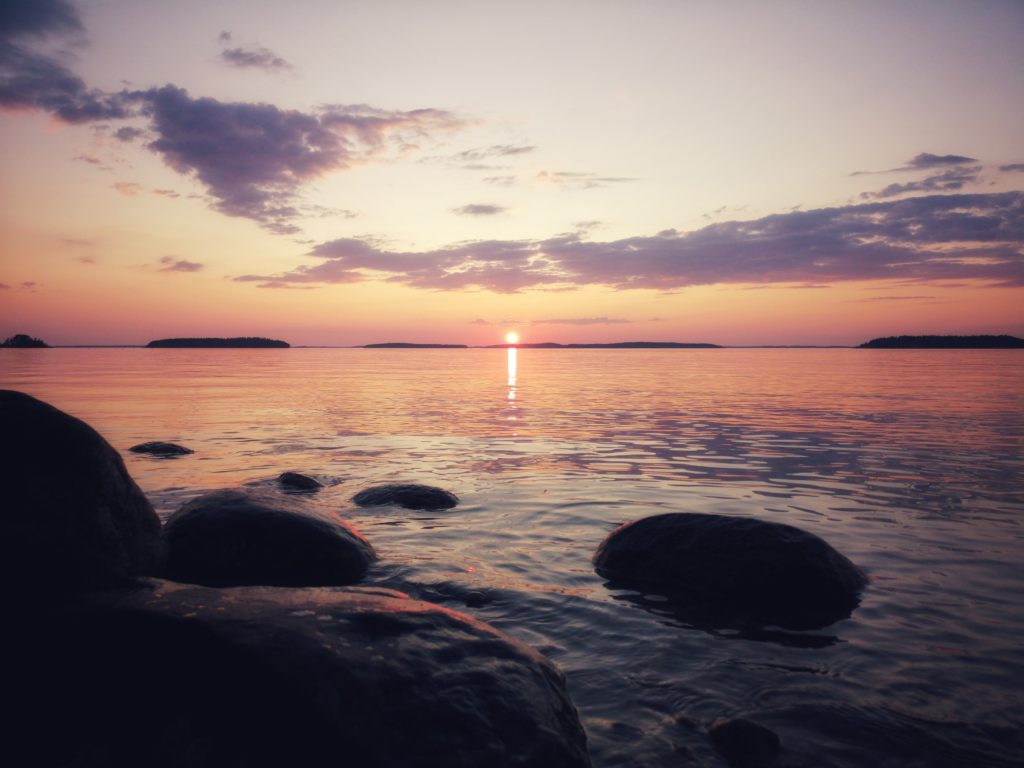 Haukkasaari island is located in the lake Tuohtiainen, where you can find a place to rest/stay overnight with shelter and a sauna open to all.
Places to stay overnight:
Uitonsaari; shelter, fireplace, toilet (85.5 km)
Haukkasaari; shelter, fireplace, toilet, sauna open to all, better tent sites (95.5 km)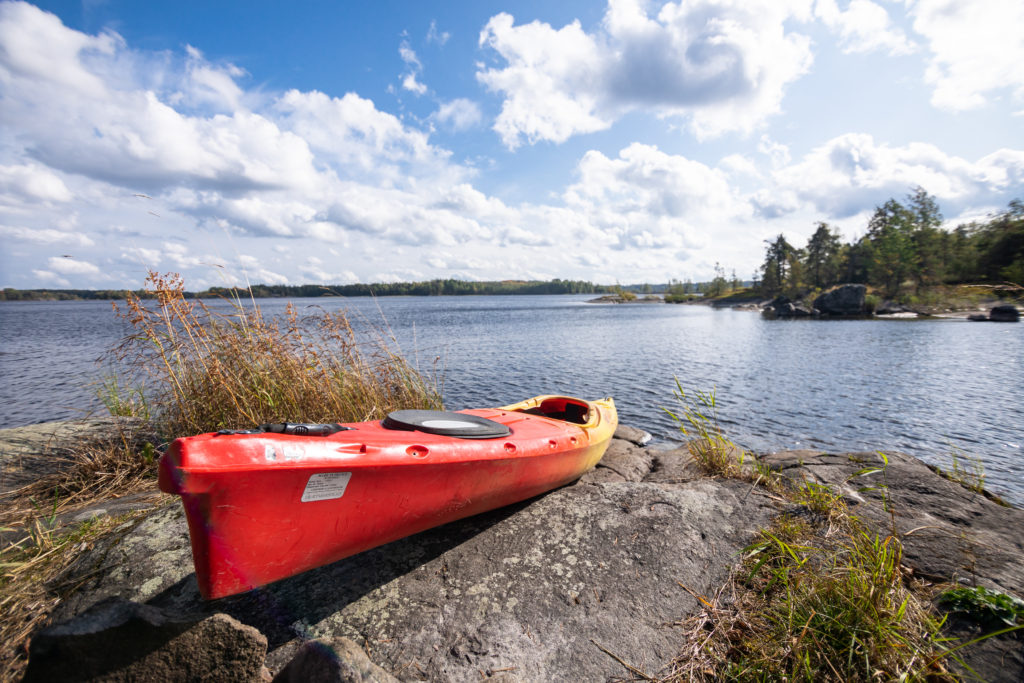 Day 5:
After this, the journey continues along a narrow river-like route towards a place called Kannuskoski. When you reach Kannuskoski, you must land at the swimming beach and take the kayaks along the small road past the dams of the mill and the power plant. At Kannuskoski, you can see the history of log-floating and sawmilling. Kannuskoski also has a small bar-cafe/shop and a campsite next to the dam. You can either stay here or continue to Sulunkoski.
Places to stay overnight:
Kannuskoski; fire place, toilet (105.5 km)
Several farm accommodation places and rental cottages
Sulunkoski; shelter, fire place, toilet (111 km)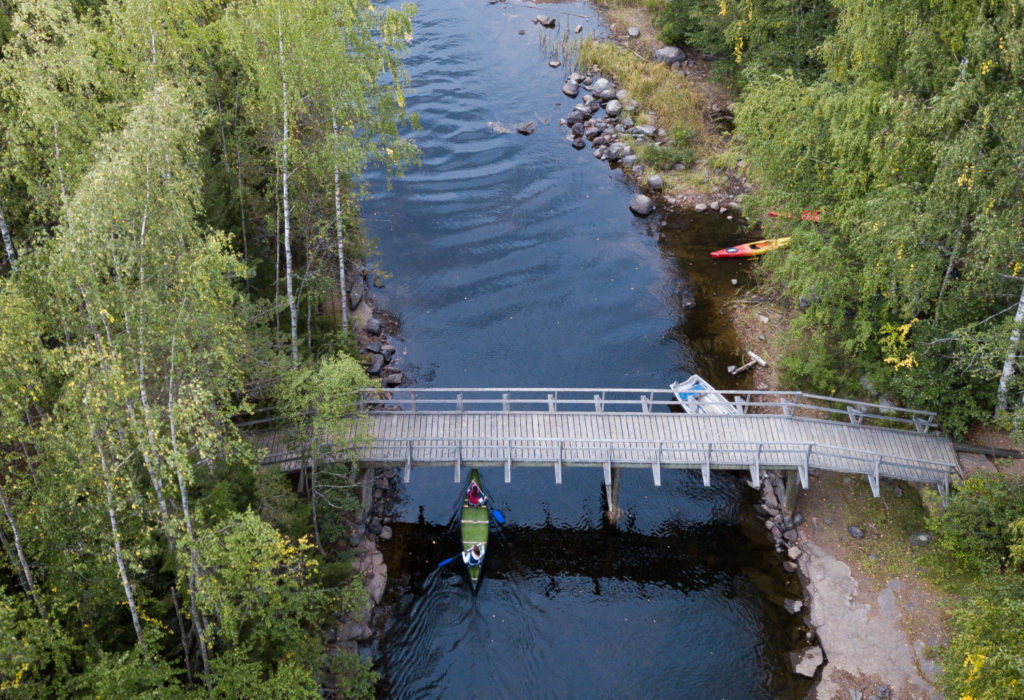 Day 6:
After Kannuskoski, the route is narrow and river-like to lake Ruokojärvi, which is a cottage area. Niskakoski, Kyykoski and Sulunkoski have flowing water and a small rapid. The landscape is more desert-like. Kyykoski has a nice wooden bridge. It is possible to take a break/overnight at Sulunkoski, and there is a large kitchen shelter, a porch, and places for tents. The landscape is more wilderness-like.
When you reach the Tirva power plant, you go ashore and go around the power plant and look at the rapids. After the carrying section, there is a beach and a shelter where you can spend the night. After this, the canoeing route continues as a wide stream towards Kouvola. You can stop to take a break at Manki's wilderness hut or Jaakonniemi's rest area. You can take a sauna in Puhjonranta.
Places to stay overnight:
Tirva beach; shelter, fireplace, toilet (122 km)
Mank's wilderness hut (128 km)
Kepsu; shelter, fireplace, toilet (134 km)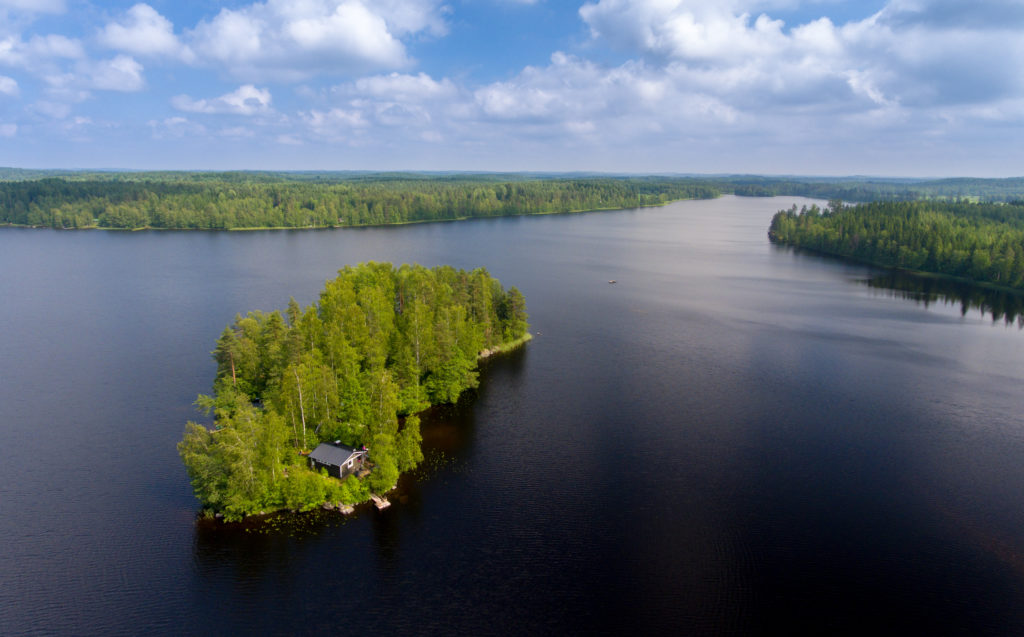 Day 7:
After Tirva, you kayak across lake Tirva and the route continues in a narrow water and country landscape. You can take a break/ stay overnight in Manki or Kepsu. After lake Haukkajärvi comes Jyräänkoski, at which the bypass of the dam is kayaked along a narrow channel, on the other side of which the water floods into a rocky area. Then the kayaks are carried down the spiral staircase to the pier, where the kayaking continues. After Paaskoski's navels, you arrive at Kouvola's Käyrälammi. End point and last place of stay: Käyrälampi Camping (144 km)