Lakeland cycling holiday for 8 nights
Cycling route in southeastern Finland, from Lappeenranta to Varkaus
Cycling holiday in beautiful surroundings of Lake Saimaa. Explore the area's most beautiful landscapes and attractions, as well as other places worth visiting. We will give you the best tips of various day routes in the area. During this cycling holiday you will enjoy the beautiful scenery of Lake Saimaa and explore the most interesting places in Lappeenranta, and Savonlinna region.
Feel the slow living in Finnish Lakeland. Cross Lake Saimaa in a ferry. Plenty of Finnish countryside with possibility to visit farms during the trip. Enjoy Finnish sauna and swim in Lake Saimaa. Historical Lappeenranta Fortress. And much more places to visit.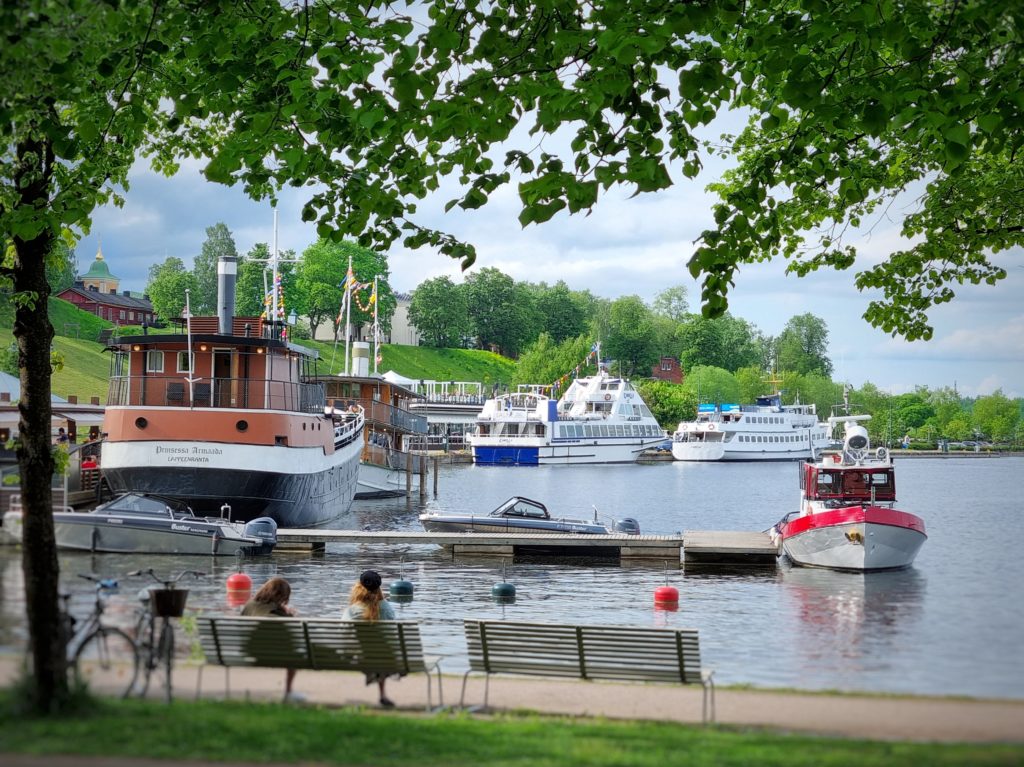 Day 1: Arrival to Lappeenranta
You will settle in at Lappeenranta for your first night. Before next day's start, you can visit Lappeenranta's old fortification or take a cruise to Saimaa Canal. The harbor area of Lappeenranta is a must-see visiting destination that is full of life during the summer.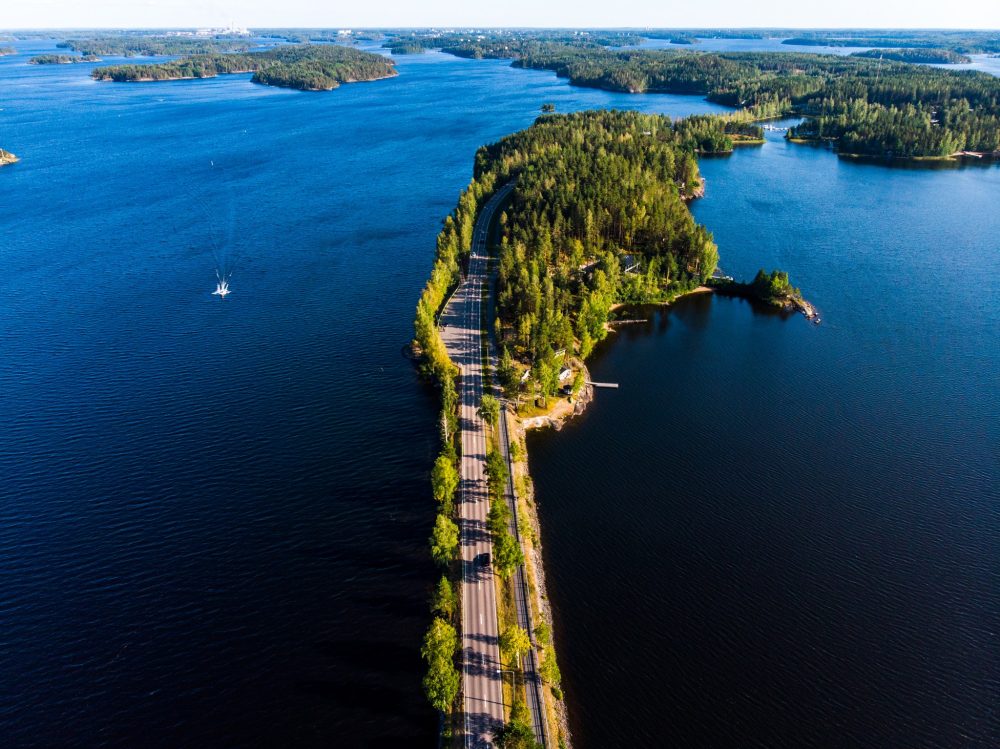 Day 2: To Lintusalo 37km
Day starts by cycling along narrow road with Lake Saimaa on both sides. This road is used by many local cyclists because of the scenery. After 10km you will reach the small city of Taipalsaari. During the summer months you can treat yourself with an ice cream cone from the market kiosk. These cones are known to be big!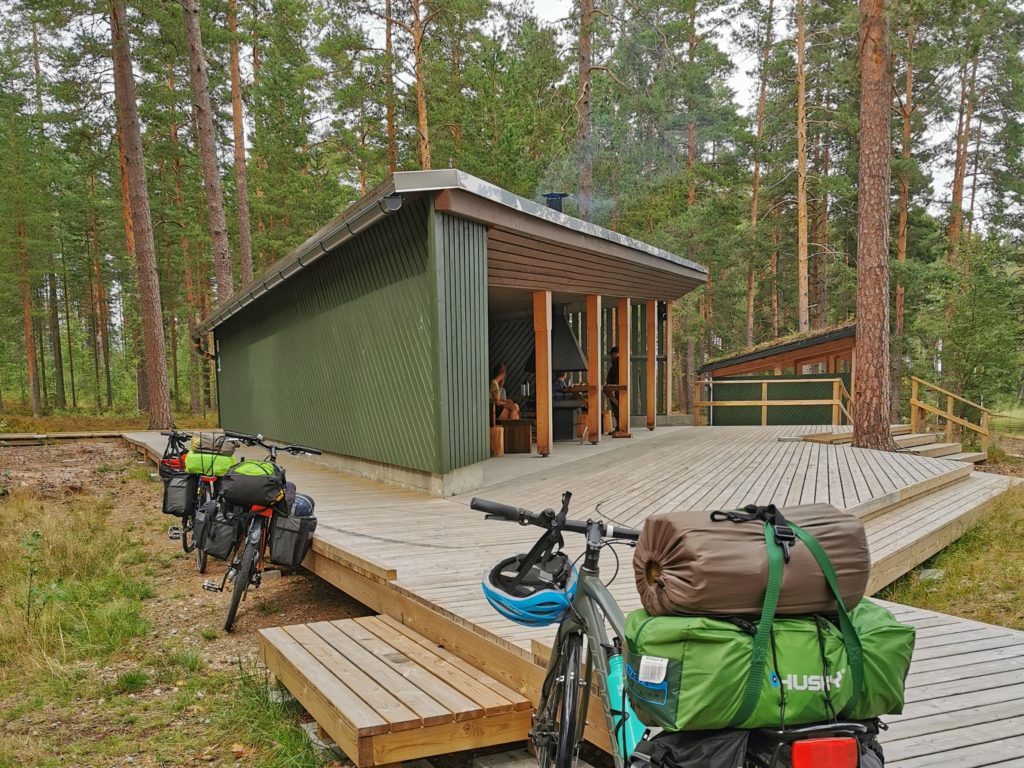 After Taipalsaari you will reach Sarviniemi, a UNESCO Geopark location. From here ferry takes you across Lake Saimaa to Lintusalo where you can spend the night. Lintusalo is a popular destination among cycling tourist and people enjoying Lake Saimaa. We recommend trying the pancakes they offer at the pier.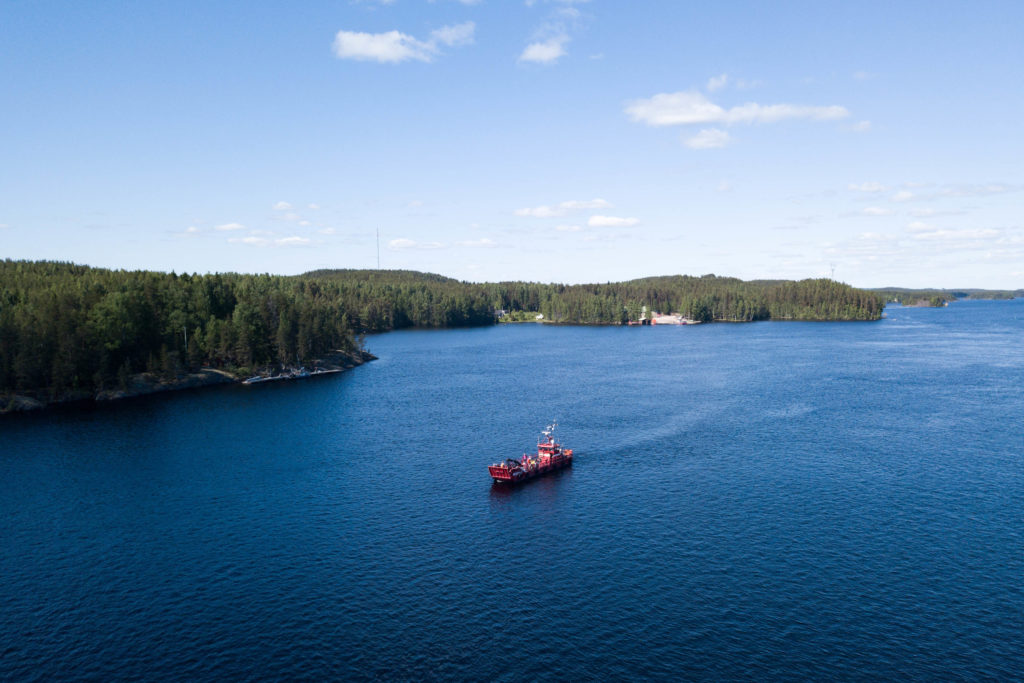 Day 3: To Puumala 33km
The second day on the bikes will lead you to the heart of Puumala. This busy small town in the middle of Lake Saimaa comes to life during the summer months. Here you can find a lively harbor and 28 meters high bridge with a cafeteria where you can observe the boats going by. From Puumala harbor you can buy a ticket to a solar powered eco boat cruise.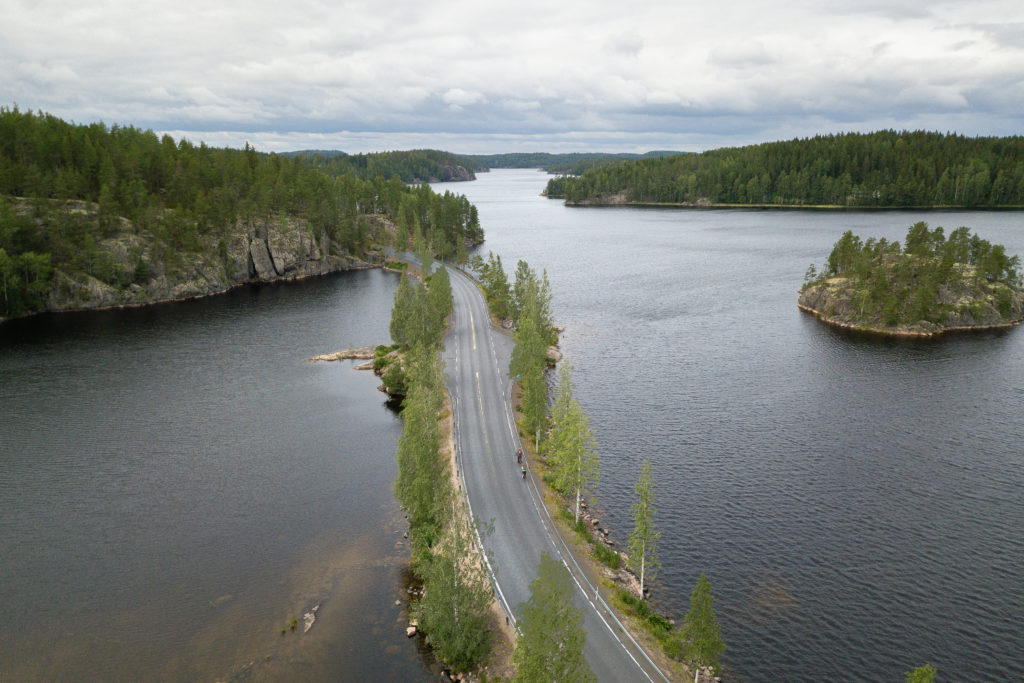 Day 4: To the rowing heart of Finland 40km
Sulkava is known for its "The Grand Rowing Races of Sulkava", the biggest rowing race in Finland. In addition to the race, Sulkava offers peaceful surroundings for cyclist and many other tourists passing through and feeling the slow living in Finnish Lakeland.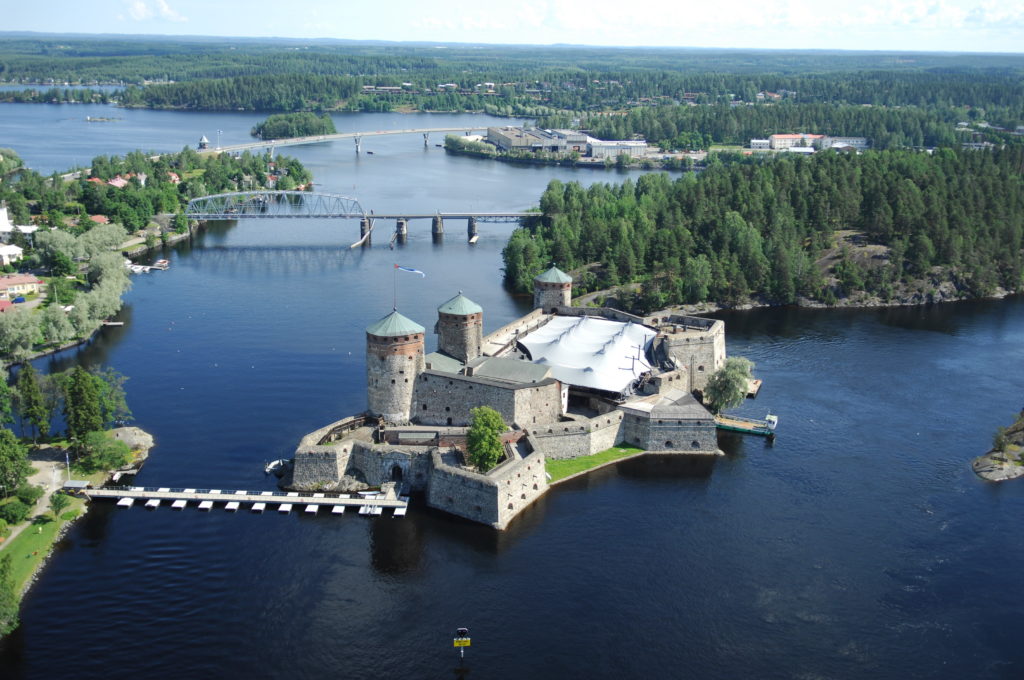 Day 5: Castle of Olavinlinna 40km
Next stop is Savonlinna, also a popular summer destination with the famous Olavinlinna castle. The castle is a "must visit" destination during you trip. Guided tours are recommended to get the full experience of this beautiful castle in the middle of Finnish Lakeland. If you have time and stamina, you can cycle the city during the evening and see the numerous bridges that connect he small islands together.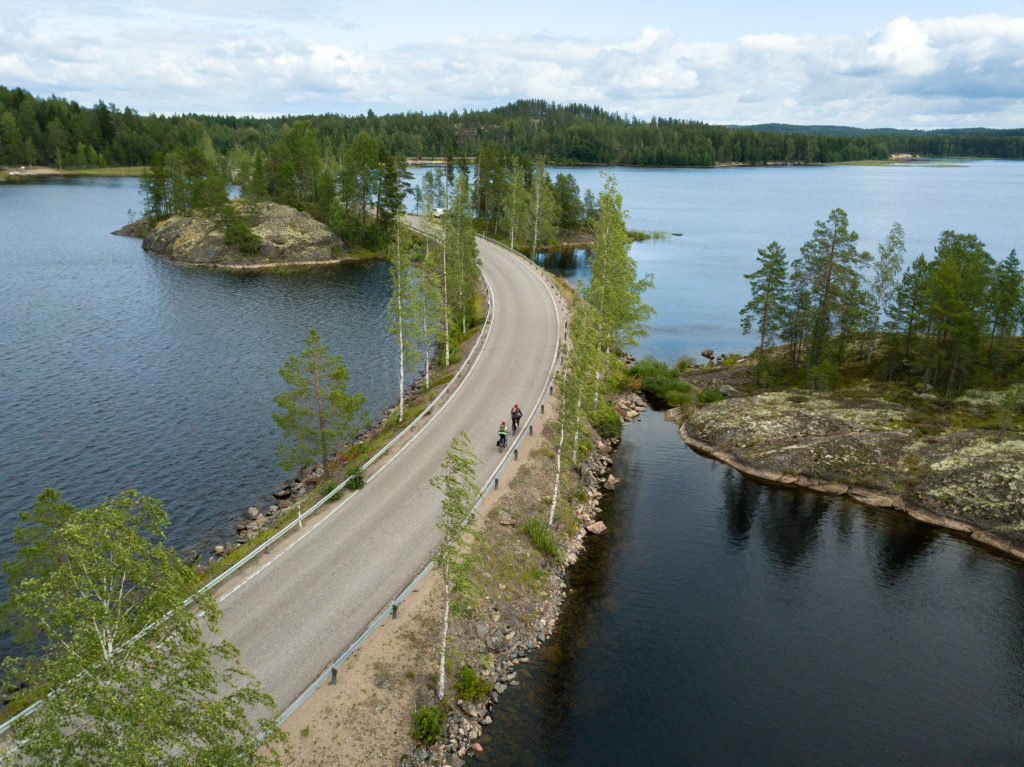 Day 6&7: To Oravi 42 km (2 nights)
Day 6 leads you to Oravi, a small village in the middle of two national parks: Linnansaari and Kolovesi. This area draws a view range of visitors to experience the Lakeland areas nature at its best. Rental services and activities are abundant.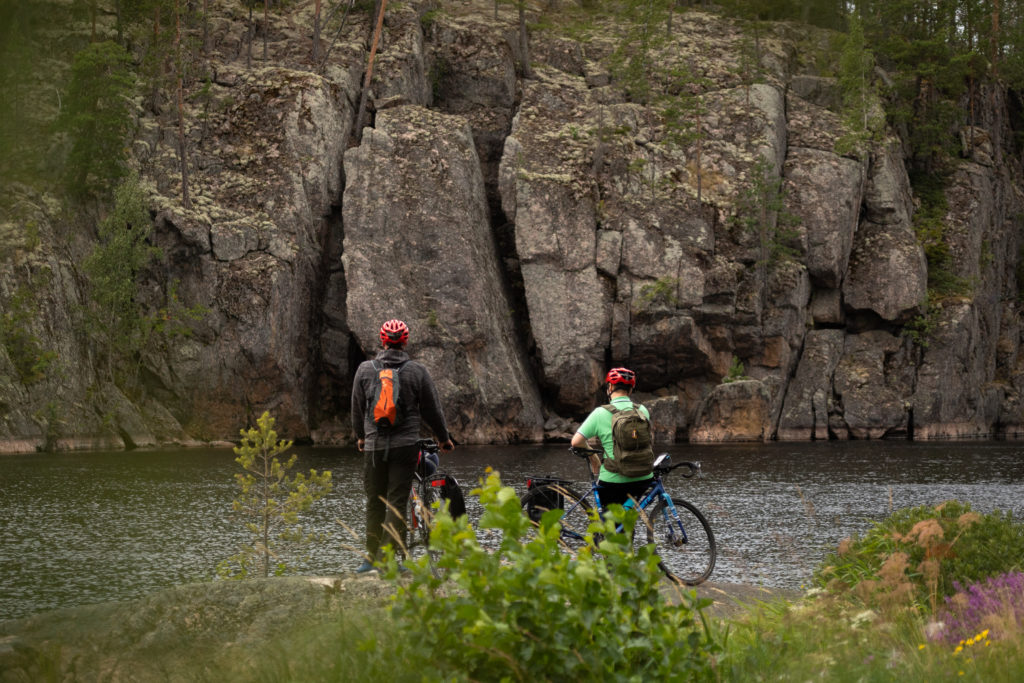 If you haven't yet, we recommend going to public sauna at the harbor to experience the Finnish sauna. Maybe try some fishing with a guide or kayaking. Or just relax and let the landscape sink in. From Oravi there is daily departures to Linnansaari national park by boat which we recommend going to.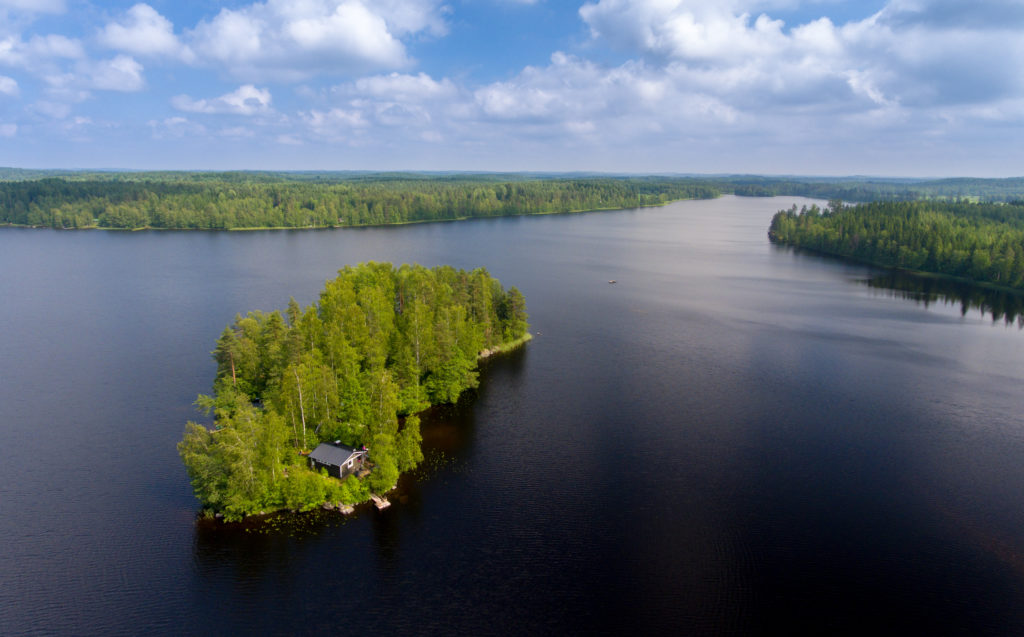 Day 8: To Varkaus 63km
The last day of cycling takes you to city of Varkaus. History of Varkaus is made from industrialization and you can see that from the building style in the city. When arriving to the city you will cross the Taipale canal. With a luck you can see the locks operating when large timber rafts are pulled with tugboats.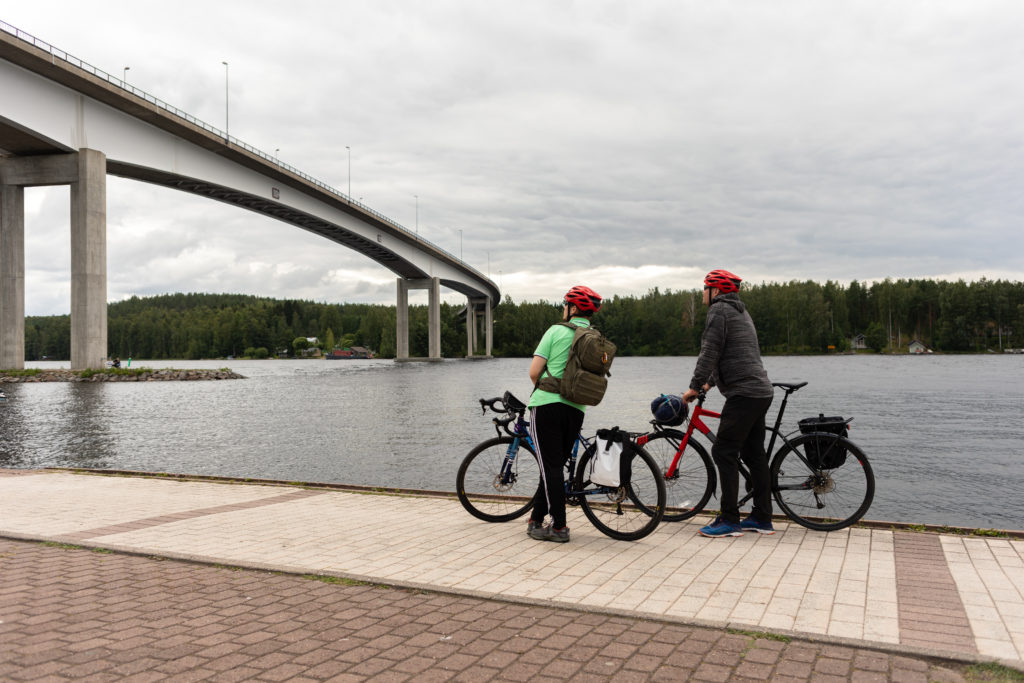 DETAILS
Length of the trip: 8 nights
Guiding: Self-guided, GPS navigation included
Possible starting dates during 2023 (=arrival to Lappeenranta)
2.6–18.6: Fridays
19.6–30.7: Monday, Wednesday, Friday
31.7–1.9: Fridays
Minimum PAX: 2 person
Route: Lappeenranta, Puumala, Sulkava, Savonlinna, Oravi, Varkaus
Route profile: Some hills, asphalt road, gravel road, mainly small and medium roads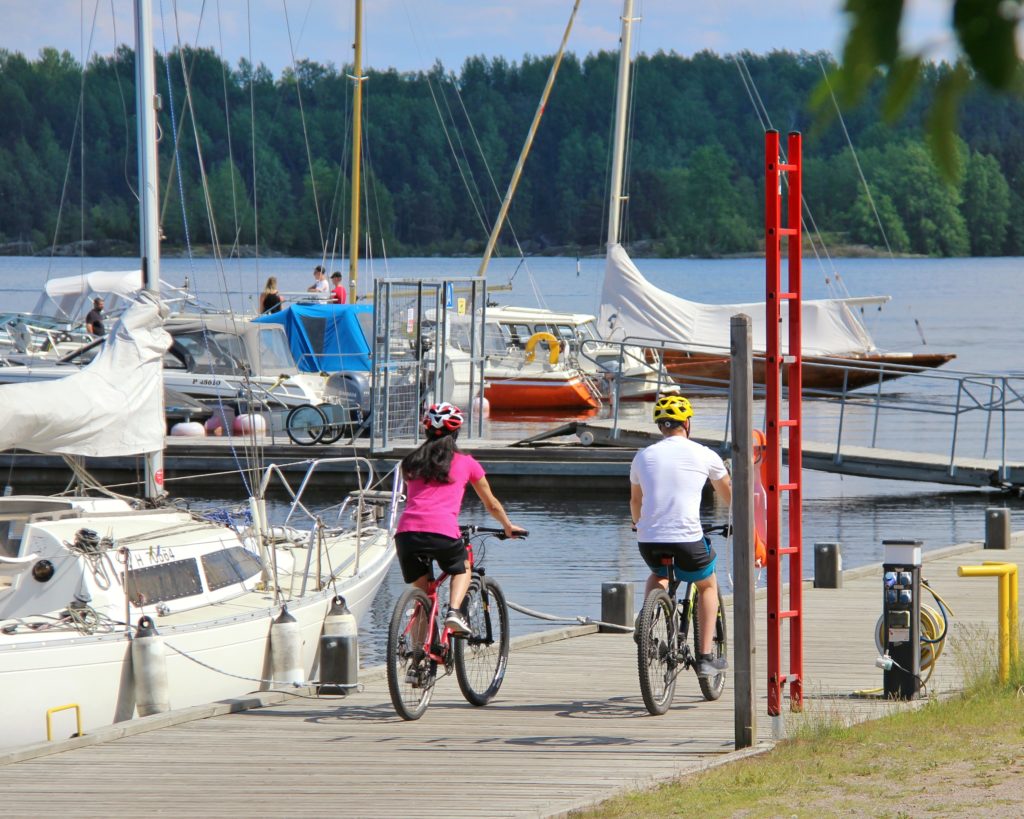 PRICE INCLUDES:
8 nights in hotels and farm style B&Bs (shared room for 2 persons)
Linen, towels, and cleaning included.
Breakfast
Trekking bicycles with luggage bags and helmets
Ferry and boat tickets for all crossings on the Lake according to the route
GPS navigation with a planned route